I like to think that somewhere, somehow, someone's life was saved by an overzealous proctologist. A guy who serendipitously comes upon a person with an as yet undiagnosed medical emergency of their butt. And because of the overzealous proctologist's knowledge and immediate action the guy is saved from an agonizing and eminent death.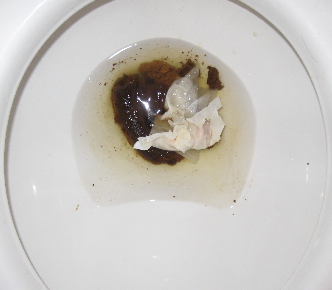 Unfortunately, I am neither a proctologist nor overzealous. That guy's not going to be me, no matter how hard serendipity tries. So instead I probably am a little culpable for some guy dying today. Or in the near future.
I had to use a public shitter today and despite my lack of formal medical training, I think the guy before had some health issues he needs to get checked out by a professional. Like immediately. How much blood, dark black tar with streaks of yellow in it and scar tissue in the toilet after you shit is too much?
Again, I'm not a proctologist. Maybe that guy prior to me has the right amount of blood, dark black tar with streaks of yellow in it and scar tissue in the toilet and I produce too little. Maybe I'm in dire need of medical assistance and need someone to serendipitously intervene me.
It was a lot of not healthy looking shit in that stall. Maybe he didn't notice it. He was on his way to a very important appointment, had to crap, shoved one out, wiped off, zipped off and never had a chance to see the pestilence he left in the toilet. That would explain how I cam upon an unflushed toilet full of death.
Then what. Do I rush out after the guy? Yelling as I run down the hallway for him to stop and lay down? Forcible requisition a cell phone from someone and call an ambulance? What's the proper protocol here?
There's a fine line between life saver and weird poop fetish stalker.
No one gives a fourth of a cum covered turd what you think, but please don't let that stop you from spreading your insightful wit to the world by commenting below. Or fuck, you're such a pussy-eating faggot you're probably interested in the rss feed of this shitty site. Oy vey.