What problems do you get with your asshole from old age? Loose Anus Syndrome? Soupy Bowel Condition? Wrinkled Brown Eye Spots? Sphincter Parkinsons?
What's in store for my pooper? Anything I can do to increase the mileage on it?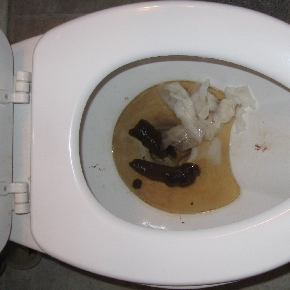 I don't want to sound like one of these new age, yoga posing health nuts, but I don't think all this shitting is good for my asshole. You ever see a retired mechanics hands? Permanently swollen thumbs (that's assuming he still has both), nails that aren't quite right, callouses that will never go away, tiny scars all over the place, cracking, chafing and fingers that aren't at the correct angle with regard to each other. A life of use takes its toll.
If you get a chance take a look at the feet of someone who has played soccer for over 20 years, the skin of a 50 year old lady who has sunbathed for a good portion of her life or the forehead and ears of an athlete who has had to wear a helmet. Not pretty.
Just gradual wear and tear over a lifetime will permanently affect anything. Especially something as soft, malleable and scarring as tissue. I don't even want to imagine what shape my asshole will be in 50 years.
The 4.46 miles, 2.160.44 gallons and 7.74 tons of shit that will come out of my ass by then won't have done my anus any favors. And that's not even taking into account the various fingers, bottle rockets, plunger handles, small pets, Vodka bottles and other items I have had gently shoved up there over the years.
More fiber? Should I stretch it out before using it? Do some anal calisthenics? Maybe constipate myself? Switch to a liquid diet? There any creams, salves or lotions I should be looking into? Will AARP send me a pamphlet about heiney health when I hit 55?
My brown eye has definitely seen better days. I just wish there was something I could do to get and keep that youthful pucker back in it.
No one gives a fourth of a cum covered turd what you think, but please don't let that stop you from spreading your insightful wit to the world by commenting below. Or fuck, you're such a pussy-eating faggot you're probably interested in the rss feed of this shitty site. Oy vey.