Get our your gas masks and calculators out boys and girls, its time for a pop poop quiz. Be sure to show your work.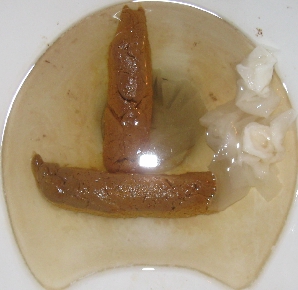 We want to find out the length of the turd that is pictured horizontally. Here's what we know:
The vertical poop (B) is 15 centimeters long.
Where the turds (A, B) meet, a 92 degree angle is formed on the left side (z).
If a turd segment (C) was plopped down to form a triangle on the left side, it would meet the vertical turd (B) and form a 29 degree angle (y).
If a turd segment (D) was crapped out to form a triangle on the right side (D), it would have to be 16.4 centimeters long to reach the top of the vertical turd (B) and the rightmost part of the horizontal turd (A).
So, Hipparchus, how long is the horizontal turd (A)?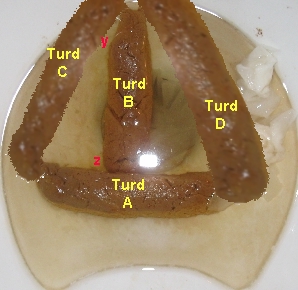 Answer: The correct method is to remember that all the inside angles of a triangle add up to 180. That means the 3rd angle of the triangle on the left is 59 degrees. Using that you would try and apply the law of sines, to determine the length of turd C. You would bumble around for 10 minutes, google the law of sines, bumble around for another 10 minutes trying to understand it, say shit on it and move on to trying to figure out all the angles on the right triangle. Get pissed when you can't find the arcsine function on the calculator program, get more pissed when you can't find out how to compute it on the internet, then say fuck it all, quickly grab turd A, realize you need a ruler, search through the whole fucking house, break a desk drawer looking for it where it should have fucking been, stub your toe on that fucking dining room chair that's always in the way, remember your tape measure in the garage, limp to go get it and then measure the piece of shit to determine, to 6 significant digits, that it is 15.6589 centimeters long.
And that's how we do trigonometry.
No one gives a fourth of a cum covered turd what you think, but please don't let that stop you from spreading your insightful wit to the world by commenting below. Or fuck, you're such a pussy-eating faggot you're probably interested in the rss feed of this shitty site. Oy vey.